As a business owner, do customer reviews excite you or do they make you feel like you've just suffered through root canal surgery? Is your business  generating a list of "I just have to share this!" customer reviews? And when those reviews come in, how do you manage them?  Let's take a closer look at how important customer reviews are.
Customer reviews can make or break your business
A BrightLocal study released in a 2013 Local Consumer Survey reveals that over 85% of consumers read reviews before making purchase decisions.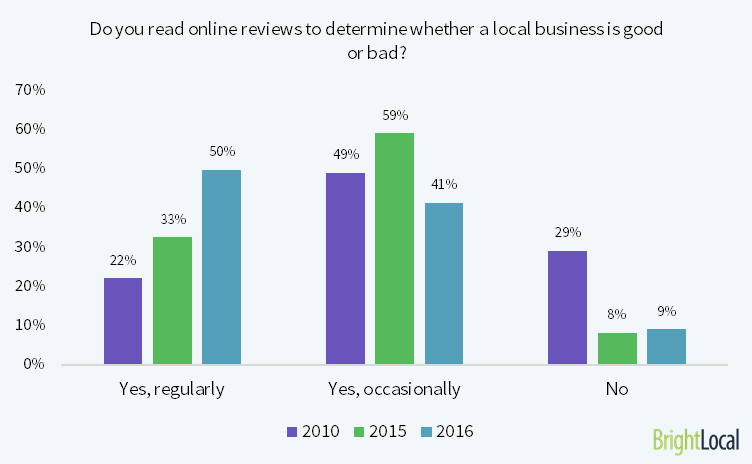 67% of consumers read an average of 6 reviews or less (and this number is up by 52% compared to 2012).
At least 73% of consumers say that positive customer reviews give them "food for trust", while only 12% of consumers said they take "no notice" of online reviews.  Supporting evidence such as word of mouth, as well as social mentions, etc.,  are, however, taken into consequential consideration before buying.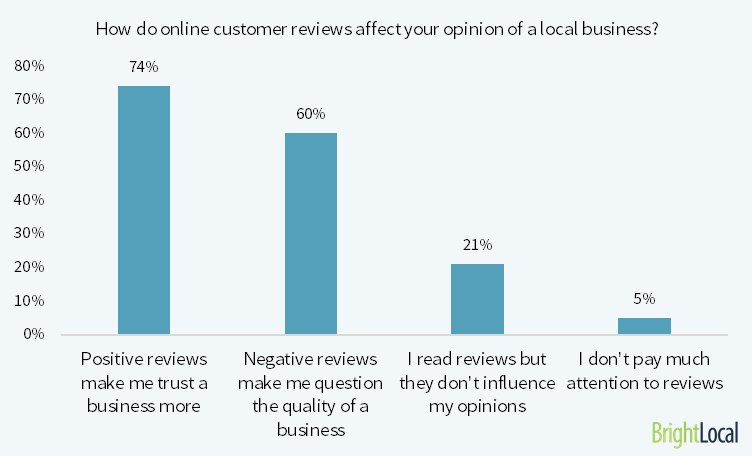 Customer reviews help influence over 90% of all customers' buying decisions. They help your rankings in local search engines, and customer reviews also make money. According to Myles Anderson of BrightLocal, online reviews have the same impact as those of personal recommendations. User reviews are the equivalent of a vote of trust; they nudge a prospective buyer into a subconscious state of willingness to purchase. As Graham Charlton of Econsultancy puts it, customer reviews directly push up sales. These reviews provide information that most prospective clients need before making a purchasing decision.
Reevoo stats reveal that an average of 50 or more reviews on a product mean a 4.6% increase in conversion rates, also leading to a whopping 18% increase in sales.
Influencing others is not about luck, and it's not magic. In fact, it's pure science.
Social Proof is one of Dr. Robert Cialdini's 6 Principles of Persuasion, and it just works.
According to Nielsen, 83% of consumers in more than 60 countries trust "word of mouth" or recommendations from someone they "know". The days of businesses buying their way into customers' hearts are over.
Customer reviews—in any form or function—are the best thing that happened to social proof for the online-shopping consumer. The "I'll have what she's having" phenomenon feeds on itself, as long as businesses make sure that products and services are the best on offer.
Consider restaurants:  Yelp is a trusted resource for consumers looking for the next restaurant to go to. Based on the little information about any random restaurant on Yelp (and also given that consumers have a tendency not to trust what the restaurant owners write), user reviews on Yelp are often taken as gospel. Michael Blanding of Harvard Business Review writes that every review of a restaurant adds to 5% to 9% effect on revenues.
Carving a Path to Authentic Customer Reviews
While customer reviews are critical for businesses, any kind of customer review won't do. In order to make positive impact, customer reviews have to be authentic. Because Yelp's success depends on user reviews,  it has features that ensure user reviews are provided by real people and are of a very high standard. Reviewers, for instance, are required to create and maintain public profiles. Some reviewers are awarded an 'elite status' when they are shown to be truly accountable.
As far as authenticity goes, the industry is catching on fast. Recently, Amazon clamped down on bogus reviews. These days, paying for reviews, incentivizing users to provide false testimonies, or hiring an army of ghosts across the world to leave fake reviews have seriously fallen out of favor.
An Entire Industry Depends On Authentic Reviews
Customer reviews have become so critical to revenues, sales, and profits that almost every industry is doing what's possible to draw in that factor of trust.
Every Movie on Netflix comes with detailed reviews. This – along with several other things NetFlix did right – has led to a phenomenal 70 Million subscriber base .
Both Google Play and Apple App Store depend on user reviews for app downloads.
Skytrax has become the Yelp for Airlines and Airports.
IMDB – a premier online database of movies and television – has user ratings and reviews for every entry.
Every professional is vetted, voted, and endorsed on LinkedIn – the more reviews and endorsements you get, the better your LinkedIn profile is.
The rise of AirBnB's success is largely attributed to the review system. When strangers look for homes to stay in distant lands, the reviews and recommendations are a trusted resource.
CouchSurfing–a worldwide community of travelers–depends on the inbuilt rating and review system.
Good businesses—with products and services that customers love—will find great reviews a natural byproduct of their offering. Success and growth depend on good reviews, but many businesses are still missing out on this. The key is to gain customer engagement. When a customer is made to feel special, great reviews will follow.
Every positive review forges a relationship between a business and its customers that can only expand and improve over time.
If you found this helpful and would like to receive an occasional tip on growing your eCommerce business sign up for our email newsletter.